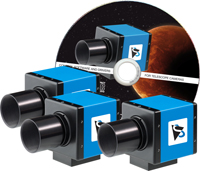 Known to be a powerful and stable image acquisition tool, IC Capture.AS is among the favorites of the astronomy camera consumers . The Imaging Source, the software's manufacture, is constantly doing its best to meet or go beyond the expectation from all customers across the world.
A couple of days ago, The Imaging Source released the French and German versions of IC Capture.AS. All language versions share the identical functions including:
Set all camera parameters
See the live image data stream from the camera
Retrieve singular images from the camera and save them as BMP or JPG files.
Capture image sequences and save the single images as enumerated BMP or JPG files.
Capture image sequences and save them as lossless, uncompressed AVI files. These files can be post-processed in other astronomy applications, such as RegiStax.
In case you still have no idea, Astronomy Camera's official web is constructed with six languages, including English, Chinese (both Simplified and Traditional), German, French, Italian, and Spanish. And this English blog is also available in French and Chinese.