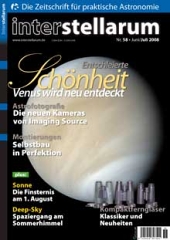 It seems that May 2008 is the month for reviews of The Imaging Source astronomy cameras in the German press!
Here in Germany, there are only two mainstream astronomy magazines:
Yesterday, we announced that Sterne und Weltraum had published a very detailed comparative test report.
Today, I am delighted to announce that the other magazine Interstellarum has just published a test report in their June/July 2008 issue. The article was written by Prof. Dr. Ullrich Dittler.
The author commences his text by presenting a very technical view of the cameras and in turn compares them with some webcams, currently available on the market.
He then turns his attention to the shipped software IC Capture.AS, stating (translated from German):
IC Capture.AS is very intuitive to use, but at the same time, fulfills complex requirements.
And concludes his article with (translated from German):
Without a doubt, the domain of The Imaging Source cameras is to capture objects in our Solar System. [They] are the ideal next step for owners of webcams and for this purpose, they can be highly recommended [...]
Again, I motivate you to go to your local newsstand, if you are based in Germany or a German-speaking country and buy this magazine.
All of us, here at The Imaging Source, send out a great thanks to Prof. Dr. Ullrich Dittler for his time and attention to write and have published this article.