Disclaimer: This text is part of a five part series, which was originally published in the UK magazine Astronomy Now. The text is copyright Pole Star Publications Ltd, the publisher of the magazine and the images are copyright Nick Howes, the astro-photographer. Text and images have been reproduced here with kind permission of Astronomy Now and Nick Howes respectively.
The CD installs drivers (The Imaging Source supply drivers for Windows XP, Windows Vista (fully supported) and Apple Mac OSX, so no imagers are left out in the cold), that are supported by a wide range of popular applications such as K3CCD, Registax and PHD Guiding (both cameras, through their high sensitivity, will make excellent autoguiders as well), along with a really superb and fully featured imaging package known as IC Capture.AS.
The feeling that this is a package that has been crafted with quality at the forefront of the design continues when you launch IC Capture.AS, which is available also as a free trial version download on The Imaging Source website.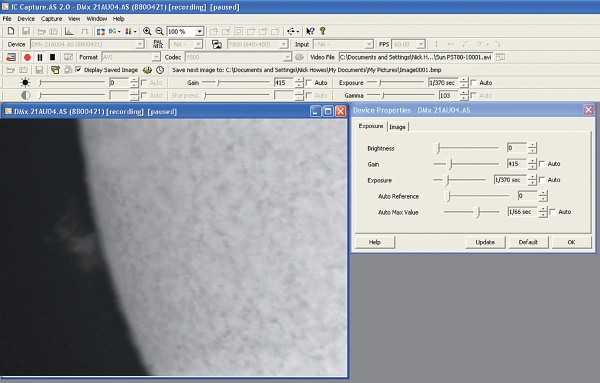 At launch, the application allows you to select the camera that you have connected, and then presents you with a wealth of control over your chosen device. A highly intuitive menu structure, which can even automatically configure all of the controls supported by your camera model, makes the configuration of the camera seem like child's play.
Comprehensive and yet still simple to follow, it has you arming the camera to record video with frame rates ranging from a low 3.75 to 60 frames per second for the DMK 21AU04.AS, and 3.75 to 15 frames per second for the DMK 41AU02.AS.
The image capture can be either uncompressed, or a range of compression video codecs. The video stream output modes are supported in applications like Registax version 4. To maintain the absolute highest quality, most people will opt for either the uncompressed mode, or The Imaging Source's preferred lossless codec, which is referenced in the quick start guide, though be aware that at 60 frames per second you will need a good, fast hard disk drive and plenty of space, as it will fill up quickly.
My relatively old Pentium 4 Hewlett Packard laptop coped perfectly well at all frame rates with almost no examples of any frame drop-out. The clever thing in this application is not only can you record video, but you can also pause and then resume the incoming video stream, which is perfect for when clouds go by, or the seeing becomes too poor for a while.