The following photo was sent by James Adamson from Ireland. His camera is a monochrome DMK 21AU04.AS which is equipped with a 1/4″ CCD and USB2.0 data interface. Many astrophotographer choose this model as their prime planetary shooting tool.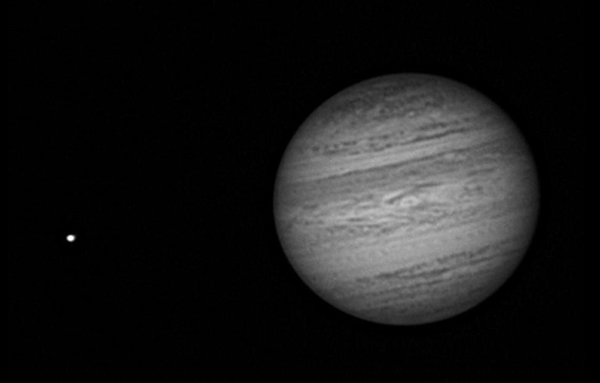 I have attached a sample image I took of Jupiter and Io with the DMK 21AU04.AS, IR PRO 742 filter, Celestron C9.25 SCT @f/20. 30fps, 2000 frames stacked and processed in Registax 5. The image was taken on the 25.08.2010 at 04.05 BST from my home in County Mayo, Ireland.

Just like to say The Imaging Source cameras are the best quality imaging devices for their price range! 10 out of 10!
This is the first time we hear from James. So warm welcome to the Astronomy Cameras online society! Great photo by the way!