It was in this August when I posted for the first time photos from Fabio Acquarone, not far in the past. But he has been working on astrophotography for a much longer time, years at least. In his recently mail "After 4 years", he sent us two photos of Jupiter on the night of 04.Sep, 2010. He took them with The Imaging Source astronomy camera DMK 21AU04.AS.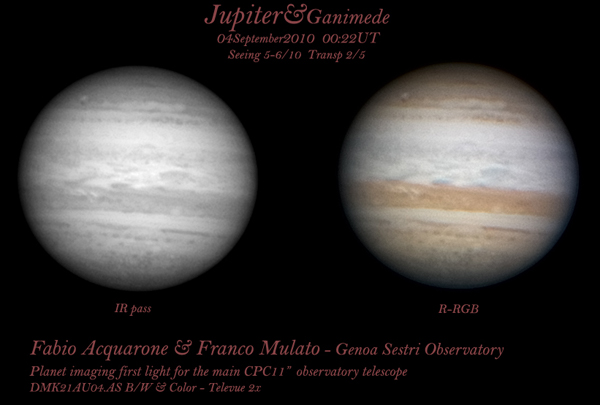 Here is what he told us in mail:
I called the subject of this e-mail "after 4 years", just because it has been 4 years since I took a real shoot of Jupiter last time. I have mostly dedicated to increase my knowledge to deep sky images.

Last night I had the opportunity to go to the new Genoa Sestri Observatory to test and try for the first time the new installed Celestron CPC11″. I am a member of the Genoa Sestri Astronomy group Franco Mulato. In addition to the first light with the telescope I had the new experience with two DMK 640×480 cameras, one B/W and another Color model. We were almost lucky to have a sufficient seeing.
Thank you Fabio! Good job!