John Chumack is an astronomy amateur based in Dayton, Ohio USA. Like many of the astronomy amateurs around the world, John has been busy with capturing Jupiter images since the 2009 Jupiter Impact.
Here is one of the Jupiter images he took with his DMK 21AF04.AS astronomy camera.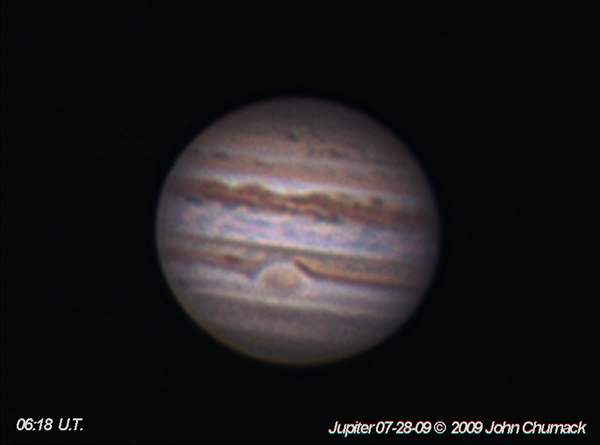 He also made an animation of the planet with a few stunning frames. Click here to download the video.
In the e-mail he wrote us :
[...]

There was an incredible amount of work that went into this Movie, I captured over 51,820 useable frames. Each full color RGB set had at least 3900 frames. Running thru all the separate RGB channels thru Registax was an all day &
night affair.

But now I have a piece of Jupiter history in Movie format, plus many very nice still images of the impact Site. I captured images starting about 2:00am and ran until 4:30 am E.ST. on 07-28-09 Basically 2.5 hours of rotation compressed to about 10 seconds,

From my backyard Observatory in Dayton, Ohio USA, using a DMK 21AF04.AS Firewire Camera and 2x Barlow, Optec Filter Wheel, attached to a Meade 10″ SCT scope.

IC Capture Software, Registax,Maxim DL, and Adobe for processing, Windows movie maker for WMV file.

The Impact Mark is now spreading out, it is at least three times the size it was at discovery, and it appears darker and easier to see.

Get out your small scopes to witness a piece of History, get a peek at the impact mark before its gone.

Gentlemen at DMK, I must say this is the best Planetary Camera I've ever owned, and I've owned them all over the 20 years i've been imaging.
Thank you John for the wonderful picture and animation!