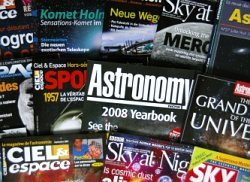 In the past year, we have been extremely fortunate to have had our astronomy cameras reviewed by many English, German and French magazines. Indeed, the response from the press has been incredibly positive.
Our astronomy cameras have appeared on hundreds of web sites across the Internet and in multiple magazines and newspapers throughout the world.
We have just launched a new section on the astronomy cameras product web site, which brings together the vast array of magazine clippings, which have been published up until now.
The Astronomy Cameras Press Center offers published detailed technical discussions and test reports of The Imaging Source astronomy cameras.
For your reading pleasure:
Astronomy Cameras Press Center