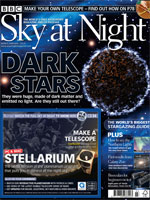 In the March 2008 issue (#34) of the British magazine BBC Sky at Night, the DMK 21AF04.AS has been awarded the Best Monochrome CCD Camera title in the magazine's Best Buys section (page 99).
In the Best Buys section, the editorial team picks the top products from the ones that they have recently reviewed. The Imaging Source astronomy cameras were reviewed in issue #31 of the magazine.
It is a great honor to have been awarded this title! Thank you BBC Sky at Night magazine! If you have not already done so, go out and buy the magazine today!