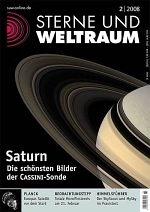 In the February 2008 edition of the German magazine Sterne und Weltraum, the following article has just been published.
It announces the new line of USB 2.0 astronomy cameras, manufactured by The Imaging Source, to the magazine's German audience.
Furthermore, the text describes the major characteristics of the cameras and discusses their output.
Below the article clipping is an English translation for our global audience.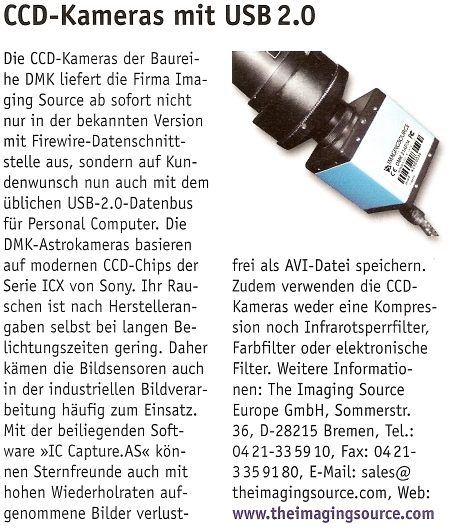 English translation of the above clipping:
CCD Cameras With USB 2.0

In response to requests by their customers, The Imaging Source is now shipping new USB 2.0 CCD cameras in their DMK range. These cameras complement the well-known FireWire range.

The DMK cameras use modern CCD chips from Sony's ICX series. According to the manufacturer these chips are especially low noise, even at long exposure times. Hence, these sensors are often used in industrial applications.

Using the shipped software, IC Capture.AS, amateur astronomers can capture series of images with a high frame rate and save the resulting data stream to lossless, uncompressed AVI files.

Furthermore, the cameras do not have an IR cut filter, color filter, nor any other electronic filter.

Further information: The Imaging Source Europe GmbH, Sommerstrasse 36, D-28215 Bremen; telephone: 0421 335 910; fax: 0421 335 9181; e-mail: sales@theimagingsource.com; web: www.theimagingsource.com.
We thank the editors at Sterne und Weltraum for publishing this product announcement.