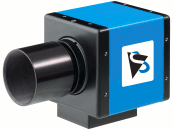 Marnix Praet from Belgium has just written to us to let us know of a new review that he has published over at Cloudy Nights.
Marnix begins his text by discussing the benefits of USB 2.0 over FireWire. He proceeds to compliment the software that is shipped with all The Imaging Source astronomy cameras - IC Capture.AS. Finally, he posts an image, which he has captured with the camera and concludes:
This USB camera is a breakthrough for astrophotographers, who wish to capture the Moon and planets. While other firms leaving the planet astrophotographer standing in the cold with stopping there production of AVI type cams, DMK provides us with this brandnew USB 2.0 camera. It is a great experience and a pleasure to work with such a good camera (USB 2.0) and great software.
Read the review in its entirety at Cloudy Nights.
A big thanks go out to Marnix for writing and publishing this review.