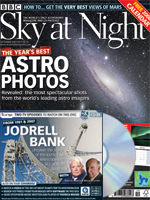 In the December 2007 issue of BBC Sky at Night magazine, now being delivered to customers and newsstands worldwide, Pete Lawrence puts The Imaging Source's best selling astronomy camera through the paces in First Light: DMK 21AF04.AS Mono CCD Camera - an in-depth look at this month's hottest new product.
On page 86, Pete starts his review with a description of the camera control software, IC Capture.AS, the DMK 21AF04.AS itself and the shipped accessories.
He describes his setup using a Windows-based laptop and PCMCIA FireWire card. He states:
IC Capture.AS was easy to use with friendly controls. In no time we were capturing videos of various Solar System targets.
Turning his attention the cameras itself, he talks about its robustness and connectors:
The camera is well built and feels very robust. The inner workings of the device are protected by a cubic metal body that provides just two interfaces to the outside world: one to attach the camera to a telescope or lens and another to connect the camera to a computer via FireWire.
In conclusion, Pete writes:
We tested the camera out on the Moon, Sun and Mars with impressive results on each. This is a highly sensitive low-noise device capable of producing top-notch results. If you're upgrading from a basic webcam or simply want to jump in at the deep end of Solar System imaging, then it's hard not to recommend the DMK 21AF04.AS. Factor in the remarkably low price tag [...] and the DMK 21AF04.AS becomes a very desirable camera indeed.
Here at The Imaging Source, we are very happy with Pete's review and would like to thank him for taking the time to write and have published such a detailed text. We suggest that you go to your local newsstand and buy the current issue of BBC Sky at Telescope magazine.