We have reported on Dr. Joseph M. Zawodny's work previously in this blog. Today, I have just come across this magnificent little photo of Jupiter that he has published to his flickr account.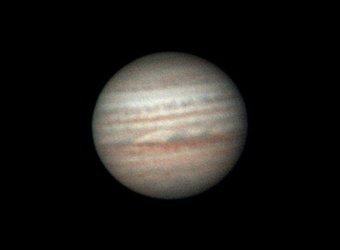 Joseph writes:
Seeing was not as good as a few days ago and transparency was low. The sky was hazy with thin clouds and quite brightly lit by urban lights. After rechecking the ephemeris, I see that there should have been a visible transit of Ganymede during this imaging session. Frankly, I did not see it then and can't really see it in this image either.
Equipment: TEC 140 at 4x (3920mm fl @ f/28), DBK 31AF03 and IDAS LPS P2 filter. 500 of 500 images were stacked in Registax.