Dr. Joseph M. Zawodny from NASA Langley Research Center recently sent us some photos of his telescope and camera rig from his flickr account. We published the photos in our In Action archive.
In one of the e-mails we exchanged, Dr. Zawodny wrote:
I am exceedingly pleased with the performance of these cameras. The fast frame rates combined with the low noise make astroimaging a joy. In the next couple of weeks, I plan to characterize the DMK 31AF03.AS to determine the number of electrons per bit as a function of gain, read noise, and dark current. [...] Your customer service has been absolutely first rate as well.
On looking at his flickr account today, I am delighted to report that Dr. Zawodny has now published the results of his promised DMK 31AF03.AS characterization.
You can read the full text of his characterization on his flickr account. Below is the resulting chart and a summary: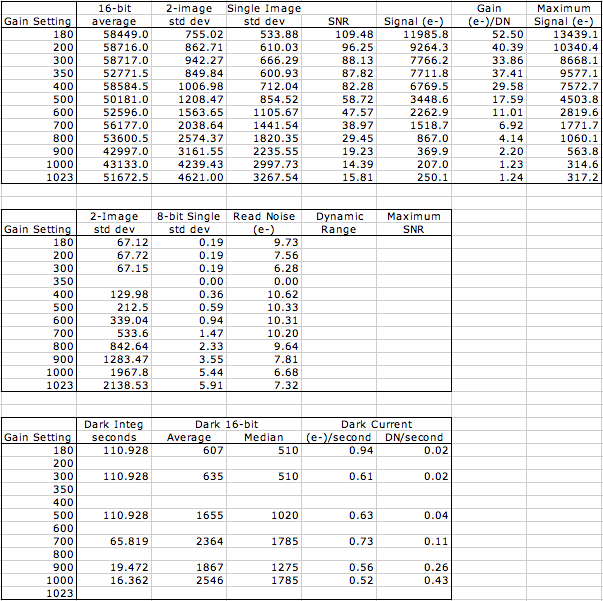 Dr. Zawodny varied the gain setting from its minimum value of 180 to its maximum value of 1023 in multiple steps. At its lowest setting (corresponding to the largest full well), he found the full well to be more than 13,000 electrons, digitized at slightly more than 50 electrons per data number. Here there was a signal-to-noise ratio (SNR) of slightly more than 100. At the highest gain settings, the sensor was counting nearly every electron (5/4 e- per data number) with a still useful maximum SNR of about 17 [max SNR = SQRT (max signal)].
Read noise was fairly uniform with a value of between 6 and 10 electrons. The sensor reached 32.2°C (90°F); ambient air produced a median dark current of about 0.6 electrons per second. He did not subtract any biases.
Dr. Zawodny finishes with:
Overall, I'm very pleased with the results of this characterization.
Characterization and images copyright Dr. Joseph M. Zawodny.