Oceanside Photo and Telescope (OPT), one of The Imaging Source's biggest resellers in the US is once again hosting the Southern California Astronomy Exposition in lovely Oceanside, California. Now in its third year, SCAE has grown into one of the premier events in the astronomy business for vendors and astronomers alike.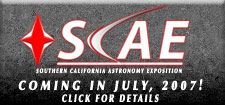 The two key dates during this event are the Astronomy Seminar Symposium Star Party on July 14th and the Product Demonstration Convention on July 28th.
The Astronomy Seminar Symposium will be a day filled with stimulating seminars on the hottest topics in astronomy including solar observing and imaging, night sky photography and advanced CCD imaging techniques.
The Product Demonstration Convention will include mini-seminars for manufacturers like The Imaging Source to highlight their latest and greatest products. With this years theme, 'Astrophotography and CCD Imaging,' Profjohn will hold a mini-seminar on the versatility of the DMK and seamlessness of the ever popular IC Capture.AS software that is included with all The Imaging Source cameras.
The DMK and IC Capture.AS seminar is scheduled for 1:00 pm.