In his astro_photo blog, "the Doctor" describes his first experiences with his brand spanking new DMK 21AF04.AS astronomy camera.
According to his blog post, he decided to upgrade his TouCam Pro II and go with the DMK 21AF04.AS, as:
DMK 21AF04.AS is more sensitive.
DMK 21AF04.AS has lower electric noise.
DMK 21AF04.AS is more versatile in terms of research.
Once the skies cleared up, "the Doctor" was able to capture some of his first photos. To prove the increased quality of his images, he decided to set up a side-by-side experiment i.e. take all photos with his old TouCam Pro II and new DMK 21AF04.AS.
Below is one of his first images of Jupiter: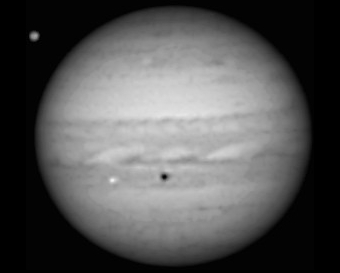 In this blog post, "the Doctor" writes:
Though in b/w, the resolution is much higher than the color shot [captured with TouCam Pro II]. Much more subtle detail is visible, and even shading is visible on the disk of Ganymede. However, since it is in IR, there are differences in shading and details shown. But overall, this image is superior to the first one. This is due to two factors - 1) IR (and also red light) are much less scattered by the atmosphere and less prone to effects of turbulence and 2) a superior CCD in the DMK [21AF04.AS].
Read the rest of the post in "the Doctor's" blog.