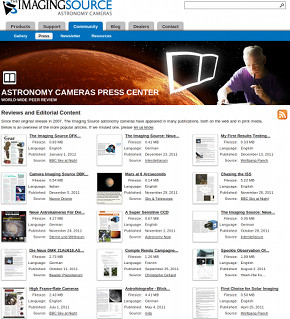 The Imaging Source astronomy cameras have been subject to a lot of peer review since they were launched back in 2007. Over the years, we have collected many articles and editorials, which discuss the technical abilities of the cameras and their suitability to specific astronomical applications.
When we relaunched the web site a few months ago, we modernized the Press Center, in which we have made available all these materials. This has become one of the most visited sections of the web site.
So that you never miss a new publication, we have today added an RSS feed, which is updated whenever a new publication becomes available.
To subscribe, simply click the following icon, and add the link to your favorite feed reader:

The RSS feed link is also available at the top right of the Press Center.
If you need any assistance subscribing, please do not hesitate to post a comment below. I will do all I can to assist you further.