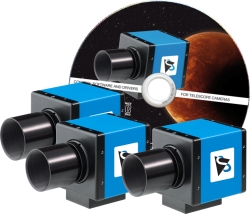 Bremen, July 07, 2011 - The Imaging Source, a multi-national manufacturer of imaging hardware and software for industry, medicine and astronomy, is expanding its line of astronomy cameras. The new CCD cameras ship with a Sony ICX618 and are available at a highly affordable price.
The astronomy cameras come in robust, blue and black industrial housing, which measures 50 mm x 56 mm and weighs only 260 g. The included nose piece is mounted onto a C/CS mount on the front of the camera. On the rear, a USB, FireWire or GigE connector is available. A threaded tripod adapter on the bottom rounds off the exterior of the camera.
Monochrome and color models are available with and without an IR cut filter. The cameras can achieve 60 fps at a resolution of 640×480 pixels. The Sony CCD ICX618 is very sensitive to visible and infra-red light and is thus ideally suited to planetary and lunar astrophotography.
The cameras ship with the camera control and acquisition software IC Capture.AS, which allows image sequences and singular images to be written to disk. Furthermore, using the highly intuitive graphical user interface, all camera parameters, such as exposure, sensitivity and frame rate, can be set.
The astronomy cameras are available worldwide and start at only € 390.00 or $ 450.00 (without shipping and sales tax). They can be purchased from any one of our international network of dealers.
To learn more about The Imaging Source astronomy cameras, download IC Capture.AS and see hundreds of sample images, please take a look at:
https://www.astronomycameras.com