American astrophotographers Theo Ramakers and Frank Garner managed to take this wonderful picture of ISS and the Sun on 30.July, 2010.
There is plenty of info in the caption and cover e-mail: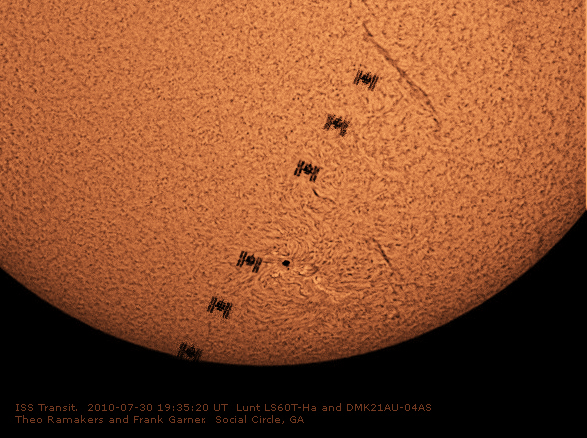 Yesterday Frank Garner and I set out to capture the Sun transit of the ISS at 15:35:10 ET on its 67033 orbit since its launch on November 20, 1998. The distance to the ISS was 405 kilometers.The angular size of the satellite was 47.2″, which makes it 1/40th of the diameter of the Sun. The ISS came close to active Region AR1092 and some nice solare filaments are visible also. We almost missed this pass as an object passed accross the field of view about 20 seconds prior to the ISS, which we first thought was an early pass. We stuck to our imaging plan and caught the right pass on time. It also appears that the transfer between the camera and my laptop was quite busy, since it skipped a few images in the sequence. But I am quite happy with the result of our team work. Image made with Lunt LS60T-H-alpha and DMK 21AU04.AS.
Thanks for the photo Theo. Remarkable capture by all means!