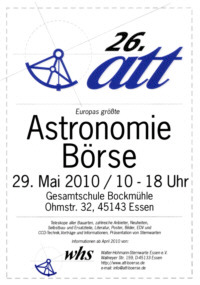 ATT, Europe's biggest astronomy fair, is taking place on 29.May, 2010, in Essen, Germany. Thousands of visitors come to the exhibition every year because they meet manufacturers, dealers, and experienced amateur astronomers across Europe. It also sets up a platform of public presentation for observatories and astronomy clubs.
The Imaging Source' Astronomy Cameras will certainly show up on the fair. The following 9 of The Imaging Source' European resellers are bringing these well known astrophotography tools to the show:
If you are around, do stop by their booths.
Enjoy the visit!