German astrophotographer Roman Breisch sent us a Saturn image last week. He took the image at 21:07, 12.April, 2010 (Central European Summer Time).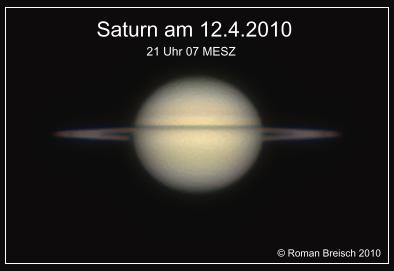 Here is the translation of his e-mail:
I have possibly something for you, a Saturn image from yesterday evening, as always captured by DMK 21AU04.AS astronomy camera.
Equipment: Celestron C11 11″ Schmidt-Cassegrain, Astronomik Filterset LRGB II, RGB composite with every 400 out of 1000 images per color channel.
The picture was taken in Erdweg, about 30km northwest of Munich.