Ernie Mastroianni is an American amateur from Whitefish Bay, USA. Three weeks ago he sent us a few images of the Moon and the Sun. Last week he captured the view of ISS transiting the Sun. The astronomy camera he has been using is DMK 31AF03.AS.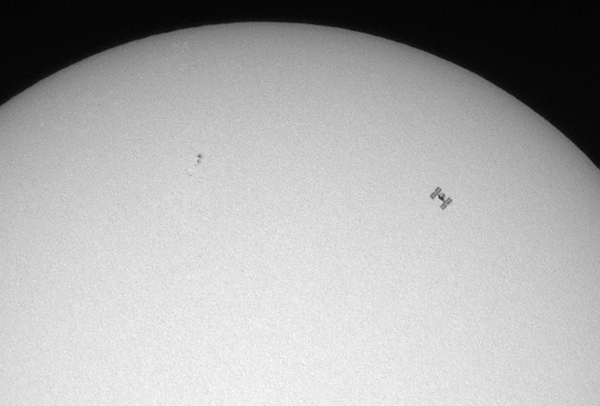 Here is what he wrote in e-mail:
Attached is a photo of the International Space Station as it passed in front of the sun on Wednesday afternoon, March 17, as seen from Milwaukee, Wisconsin. I used the DMK 31AF03.AS monchrome camera camera mounted on a Sigma 500mm f/4.5 lens with an Identiview solar filter.

To find out where I needed to be to take this shot, I used the ISS transit prediction java program offered on Ed Morana's website.

The camera's fast frame rate allowed me to get nine images of the station during its half-second transit. This one shows the station closest to sunspot number 1054.
Thank you Ernie! Nice picture!