We received this picture of Copernicus Crater from German astronomy amateur Volker Brodale. He captured the raw images with DMK 31AF03.AS on Feb.04.2009. Both of the two images below show Copernicus Crater, but they look different because Volker processed them in different ways.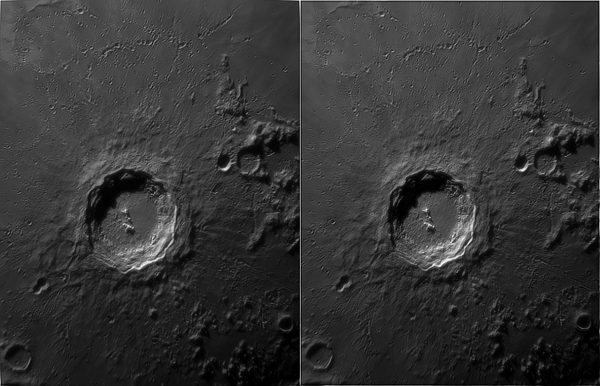 Here is his e-mail translated from German:
(The Copernicus picture was) taken on Feb.04.2009 with STF-Mirage 8″ ~ f25 and DMK 31AF03.AS at 15fps.

The AVI has got 1100 frames and then processed with RegiStax5. Approximately 300 frames were stacked and sharpened. Further processing was done in PS6-Elements.

The right Copernicus is the original output from RegiStax, with only a little adjustments of sharpness and tonality. The left Copernicus undergoes a slight artificial optical aberration and the sharpness and soft focus are selectively added and processed in different parts of the picture.

[...]
Thanks Volker!