This nice image of Saturn comes from Mike Salway, based in New South Wales, Australia. As one of the most active member in the astronomy cameras online community, Mike constantly sends us his remarkable astro pictures taken with The Imaging Source astronomy camera.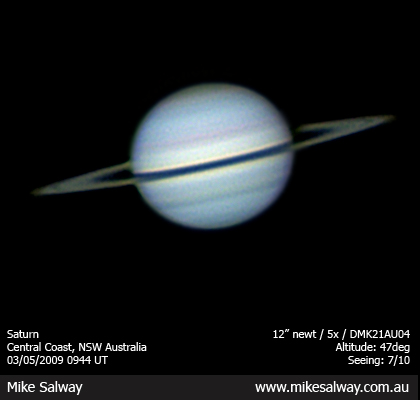 As you have probably read in the picture, Mike took this image with the DMK 21AU04.AS camera, an ideal instrument for planetary photography.
Along with the Saturn picture, Mike also sent the following info in his e-mail:
I've had a pretty ordinary Saturn run this apparition. On Sunday night, 3rd May, I was out capturing some images of the Moon for a friend and even though I was using the ED80 and DMK, I noticed the seeing was quite steady so once finished with the Moon, I put the 12″ Newt back on my EQ6 mount. I was pleased to see Saturn quite steady on the screen, with the Cassini Division visible in the raw video during moments of stable conditions. I only captured 2 runs, as I knew the seeing wasn't going to get any better at that time, but it was enough to capture my sharpest image of Saturn this apparition - a great surprise for being so late in the season.

47deg altitude, 15fps R,G, 7.5fps B. DMK 21AU04.AS, 12″ Newt.
Good job Mike! Thank you!