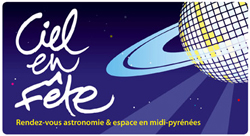 Ciel en Fête is a big astronomy event in Toulouse this year, happening between 2 and 5 of April.
As a matter of fact, Ciel en Fête is just one in a series of conferences and events in Toulouse this year to celebrate année mondiale de l'Astronomie(The World Astronomy Year).
As ever, The Imaging Source is glad to be a part of this event. And this time, you are going to see us together with our Toulousain distributor, La Clef des Etoiles, in the Polaris Hall of the City.
All visitors who participate the questionnaire will have a chance to win a monochrome astronomy camera DMK 31AU03.AS at the reception desk of Ciel en Fête.
Visit the official website of Ciel en Fête.
Have fun!