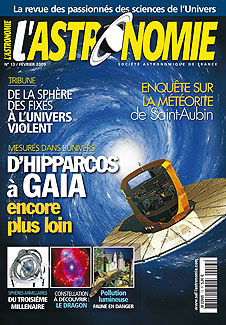 The French astronomy magazine "L'Astronomie", published by SAF (Société Astronomique de France), is organizing a photography competition in association with The Imaging Source.
The purpose of this competition is to memorize the "small step for [a] man, giant leap for mankind" in 1968. Every astronomy amateur can join this event by submitting the best lunar images he has ever taken.
The first three prizes are astronomy cameras manufactured by The Imaging Source:
DMK 41AU02.AS - Monochrome CCD camera with frame rate of 15 fps, maximum exposure of 60 min.
DMK 31AU03.AS - Monochrome CCD camera black with resolution of 1024 x 768 pixels, 30 frames per second.
DMK 21AU04.AS - Monochrome CCD camera, USB 2.0, 640 x 480 pixels.
Be aware that the deadline of this competition is 15 May 2009, and you can find the its detailed terms and conditions at its official web.