Mike Salway, one the of most active members in The Imaging Source Astronomy Cameras Online Community, has just sent us another stunning Saturn image he took with his DMK 21AU04.AS camera.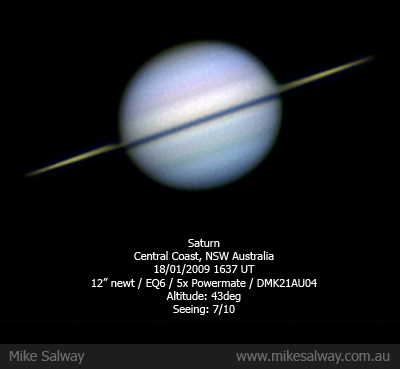 Although Mike's excellent astro-photography skills are well acknowledged, in his e-mail he is still modest enough to credit the picture to the weather which is certainly a necessary condition for great astro-photography work:
This image of Saturn was captured on the morning of the 19th January 2009, in variable but at times quite stable seeing conditions. It's been so long since I've seen excellent seeing conditions that I feel i'm over-estimating the conditions of late, and have done so again with this image but it's the best seeing I've had this year so it's a start at least.

The improved atmospheric stability has helped to make this image my best Saturn for this apparition so far, and it's giving me inspiration to continue to sacrifice sleep on clear nights and continue imaging. Now I just need a night of excellent seeing to recalibrate my scale and put things back in perspective

Image link, Capture and processing information here:
http://www.mikesalway.com.au/2009/01/21/saturn-in-better-seeing-19th-january
Good job Mike!
Clear Sky!