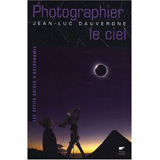 Jean-Luc Dauvergne is a scientific journalist, who has a special interest in astronomy. He works for the French magazine Ciel & Espace. On May 07, 2008 he published a book, entitled Photographier le ciel (Capture The Night Sky).
The author examines a number of approaches to astro-photography, explaining each one in detail. His text is aimed at beginners in the field.
Most interestingly, from our point of view, is that Jean-Luc has included an entire chapter on The Imaging Source astronomy cameras. The chapter Acquisition avec une DMK (Capturing Images With A DMK) offers a number of photos and illustrations of The Imaging Source cameras, in addition to screenshots of the camera control software IC Capture.AS. Furthermore, the author has included several sample images, captured with the DMK series of astronomy cameras.
This book is ideally suited to those who i) can read French (!) and ii) are looking for a way to quickly and intelligently get started with astro-photography.
A great thanks goes out to Jean-Luc for taking the time to write and publish this highly instructive guide.
To order the book, please click here: Photographier le ciel