In the January 2008 issue of the UK magazine The Astronomer, Nick James has published an interesting article, which looks at the DFK 31AF03.AS.
The Astronomer is a magazine which is aimed at advanced amateur astronomers. It publishes all observations of astronomical interest as soon as possible after they are made. The magazine has been around since 1964 and is published once per month. Their web site offers back issues, dating back to 1977 and a very comprehensive electronic circulars service, which is geared to keeping subscribers members up to date.
In his article, James writes:
The camera is well made with a solid metal case and it is supplied with a 1 1/4″ noisepiece ready to attach to the telescope.

The software supplied is pretty good and it installed without any problems on the fairly low-end (2002 vintage) Pentium 4 PC in my observatory. This runs Windows XP, SP2 and the camera was immediately recognized and configured. [...] I operated the camera via a 4m cable connected to the observatory PC and then controlled the setup from indoors via a remote desktop.

The camera can [...] be used in long exposure mode and the dark noise is impressively low and consistent from frame to frame. I would expect however that it's main application will be as a high frame-rate planetary imaging camera.

[...] I have used a humble Toucam to get some good results [but the DFK 31AF03.AS] beats that by a long way.
You can download the full article, by clicking on the following screenshot.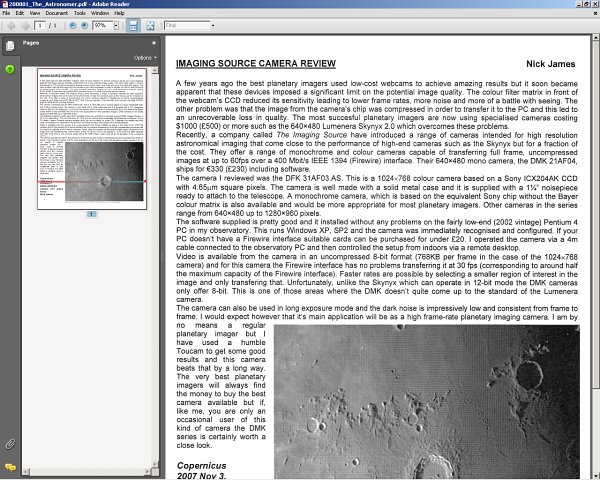 As ever, our thanks go out to The Astronomer and in particular, Nick James for publishing this well-written and researched article.