In 1994 I joined an professional academic organization that is committed to supporting all levels of physics, astronomy, and physical science educators from K-12, to College, to Post-University. The American Association of Physics Teachers, or AAPT, is filled with interesting, intriguing, and somewhat quirky characters from all over the United States and 29 countries abroad. Established in 1930, the vision of the group is to be the leaders in physics education via "dissemenation of knowledge of physics, particularly by way of teaching."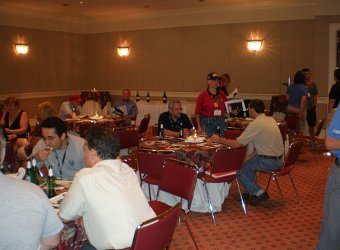 By organizing bi-annual meetings, they continue to commit themselves to provide the most current resources and up-to-date research needed to enhance a physics educator's professional development. The 2007 National Summer Meeting of the AAPT was held in Greensboro, North Carolina this past week. Just 1.5 hours from our Charlotte office, The Imaging Source sent me to showcase The Next Generation of Astronomy Cameras and show its continued support for science education by throwing a party!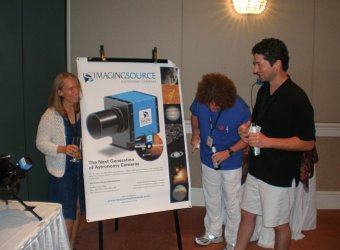 The First Annual Physics Educators Appreciation Reception was a great success and well attended. Participants had a chance to "play" with the DFK 21AF04.AS and its siblings in a variety of settings including telescope and microscope applications. The event lasted late into the night and concluded with a live raffle. The winners of The Imaging Source cameras are Ester Zirbel, a Astronomy Professor from Tufts and Bob DeSario an Atomic Physicist from the University of Florida. A good time was had by all and I thank the participants, the AAPT Organizers, and The Imaging Source for suppoting our leading science educators and my good friends!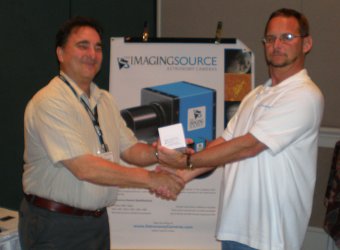 Congrats to the raffle winners from Profjohn, AstronomyCamears.com, and The Imaging Source!