Not wishing to be out-done by Tom Hartline or by compatriot Jean-Luc Dauvergne, Sébastien Aubry of Astropodcast.fr has also submitted a very high resolution mosaic image of the moon that he has shot: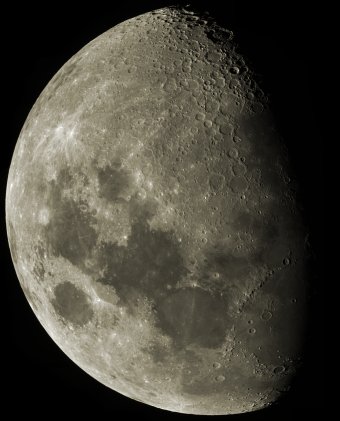 Click on the above image to see the full resolution version, or download the original, uncompressed TIF version (36 MB).
He used The Imaging Source DMK 21AF04.AS to capture the image. It was assembled from 60 images of 60 individual movies, each at 30 fps, using a Skywatcher 120/900 ED and a 2.5x barlow.
The capture time was kept to a reasonable one and a half hours, thanks to the high transfer rate of the DMK 21AF04.AS. The processing, however, during which the mosaic image was assembled, took considerably longer. Acquisition and stacking was performed on a Mac, using AstroIIDC, while processing and assembly was done in Photoshop.
Thanks goes to Sébastien for submitting this image.
Have you taken a high resolution image of the moon? If you have, why not send it to us and we will publish it here in the blog and in the sample images archive.