Andreas Murner has been at it again. The last time I mentioned him in this blog, he had sent us a spectacular potpourri of monochrome solar images that he had captured with his DMK 31AF03.AS.
This time, FotoCommunity.de - a leading photo sharing portal in Germany - has published an equally crisp image that Andreas has entitled Mondkrater Petavius (Lunar Crater Petavius).
Wikipedia describes Petavius as:
Petavius is a large lunar impact crater located to the southeast of the Mare Fecunditatis, near the southeastern lunar limb. Attached to the northwest rim is the smaller Wrottesley crater. To the southeast are Palitzsch crater, Vallis Palizsch, and Hase crater. Further to the north is the large Vendelinus crater. The crater Petavius appears oblong when viewed from the Earth due to foreshortening.
The image which was captured with a homemade Newton telescope and DMK 31AF03.AS is below (click for original):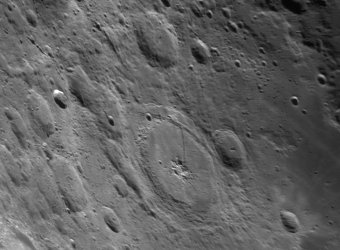 The reaction to this image on FotoCommunity.de has been very positive.
"Spectacular image; Framing, lighting and focus are perfect. Not exaggerated, as is unfortunately often the case", writes Bernd.
"Homemade Newton telescope. That's awesome! Nice crater image, by the way!", writes Sepp.
"Absolutely amazing! That is a beautiful image of Petavius", writes Christian.
"Great photo!", writes Hartmuth.
"I fully agree with the others: Sharp, not exaggerated. You got good seeing!", writes Manni.
Keep up the good work Andreas! Post more of these wonderful photos!