On his web site, SkyTrip.de, Mario Weigand has published a review of the DMK 21BF04 FireWire camera. The review is written in German.
We have translated the main text of the review from German into English to make it accessible to our world wide audience.
Copyright information and source is cited at the end of the review.
Mario Weigand writes: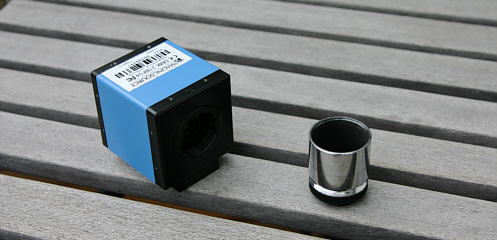 As my old ATiK 1HS II was broken, I needed to get a new camera that ideally was technologically better than the old one. I wanted the camera to output uncompressed images at a high frame rate. The CCD should be comparable to the one in the old camera and offer similar performance.
As the camera I was going to purchase would output a large data stream (due to its high frame rate), it was important that the connection to the host PC be as fast as possible - certainly faster than USB 1.1. USB 2 and FireWire are currently the only interfaces that come in to question.
At the time of my product research, it was impossible to buy any decent USB 2 cameras, hence I decided to go for one with a FireWire interface. I came across a company called The Imaging Source. They manufacture high quality industrial cameras with FireWire connectors.
Two cameras in their range came into question: DMK 21BF04 and DMK 21F04. They differ only in their maximum exposure time. I decided to purchase the more expensive DMK 21BF04, as I wanted to be able to expose the camera for several seconds, in order to capture faint Moon images, for example.
Using this camera, I am able to capture up to 30 frames per second. The high sensitivity of the camera, especially in comparison to the ToUcam, allows narrow-band filters to be used.
The workmanship of the camera is top notch. Similarly, the software that ships with the camera is well thought through and works well. Furthermore, the base of the camera has three threads that allow the small cube to be mounted on a normal tripod from any photography shop.
Text and images copyright Mario Weigand.
Source: http://www.skytrip.de/dmk21.htm