Frank Brandl is eager to post the preliminary results from his new DMK 21AF04.AS astronomy camera. His magnificent photo shows Saturn, captured with an IR/UV cut filter.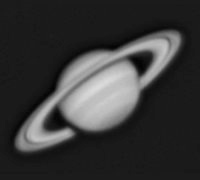 He is planning to use his camera together with a filter wheel (Atik) and Astronomik LRGB filter set or with the ToUCam for RGB (in this configuration the DMK 21AF04.AS will produce the luminance layer).
The DMK 21AF04.AS is connected to his laptop via FireWire (IEEE 1394), which allows a maximum of 60 fps of uncompressed data (depending on the integration time).
The video stream for this image had 8 fps.
Frank Brandl has a number of other images in his gallery:
http://www.frankbrandl.com/htm/frame_gallery.htm