I am Peter Desypris from Athens.

I would you like to send you a beautiful prominence witch captured on December 08, 2011, with a DMK 31AU03.AS camera, using a LUNT LS60THa/B1200(single stacked) and a CEMAX 2X barlow. 700 frames were composited in Registax 6 and processed in Photoshop CS4.

Capture duration = 80.04 Sec, Captured frames = 915, Dropped frames = 6, Capture frame speed = 11 Fps, The Imaging Source DMK 31AU03.AS.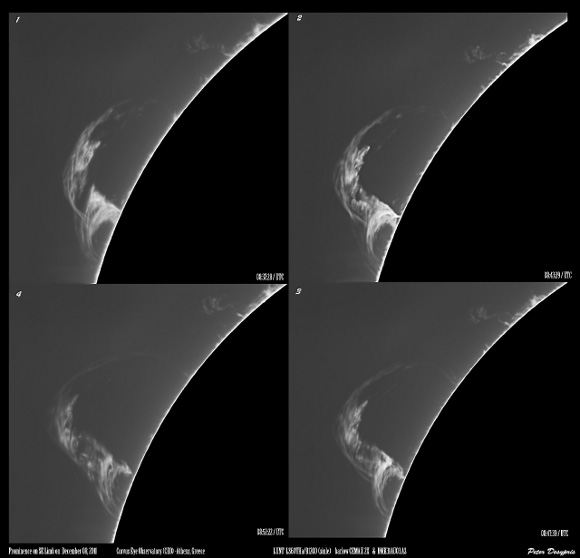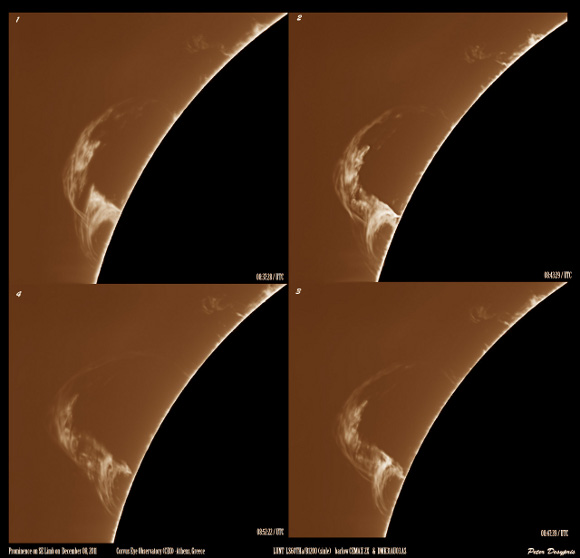 And and other more image from December 03, 2011. DMK 31AU03.AS camera, and a LUNT LS60THa/B1200 (single stacked) and a CEMAX2X Barlow. 600 frames were composited in Registax 6 and processed in Photoshop CS4.

Capture start time = Saturday, 03 December 2011 08:38:16 / UTC, Capture duration = 55.08 Sec, Captured frames = 710, Dropped frames= 941, Capture frame speed = 13 Fps, Telescope = LUNT LS60THa/B1200, Camera = The Imaging Source DMK 31AU03.AS.

Peter Desypris, Corvus Eye Observatory, Athens, Greece, http://ceo-despet.blogspot.com/