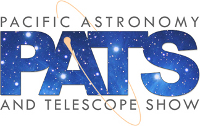 PATS will bring together dozens of exhibitors, clubs, and presenters to a downtown setting for a weekend of astro-related activities. This is an opportunity to share our hobby and science with each other and to people new to astronomy.
This happens on September 17 and 18 at the Pasadena Center (300 E Green St., Pasadena, CA 91101), a modern facility easily accessible from throughout Southern California and the country. The exhibit hall will be open from 9:00 to 5:00 on Saturday, and from 9:00 to 3:00 on Sunday.
Speakers and presenters from the ranks of space explorers, national astronomy-related organizations, and well-known authors will be sharing their experiences both days. Related events, like the Riverside Astro-Imaging Workshop, a tour/observing session of Mt. Wilson, and a large public outreach, will take place during the weekend. The facility can hold about eighty vendor booths and thousands of attendees.
The Imaging Source Astronomy Cameras will be presented by the following official resellers:
Enjoy the show and clear skies!