We just received the following from John Chumack:
Hi All,

I'm back from my leg artery surgery last week, while recovering I had some real challenges getting around, especially in my backyard observatory to image, but I managed to get some done.

Red Spot Chasing Black Spot, Jupiter GRS & Europa Shadow Transit & bright Red Spot (Oval BA) in the Northern Equatorial Belt.

I woke up this night at 2:00 am, hobbled out to my backyard, leg still hurts, but something was telling me to look at Jupiter[...]. yep, it was a shadow transit, I actually took about 20 sets of RGB's this is one of them, but unfortunately the neighbor's tree blocked my view after 3:00am so I was not able to follow it beyond this point. Seeing wasn't the Best but it had okay moments! This is when I noticed the very Red Oval BA Spot in the North Belt!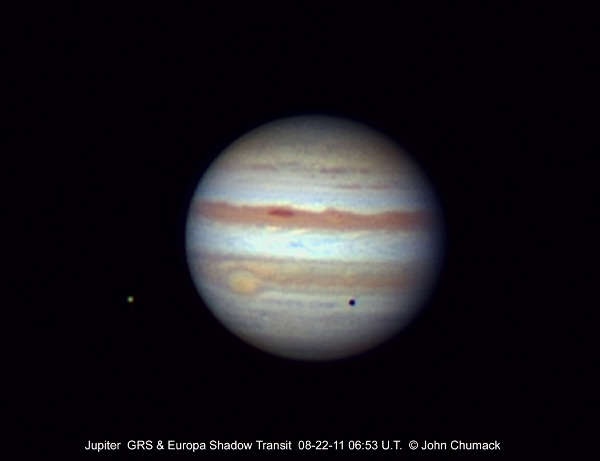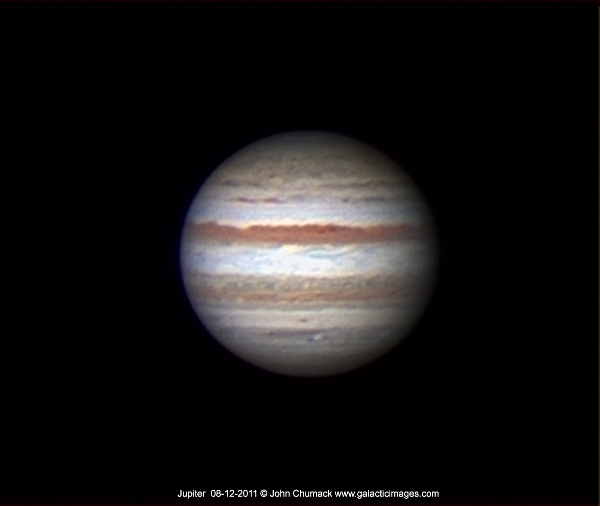 Jupiter & Europa Shadow Transit 08-22-11 06:53 U.T.

My Backyard Observatory in Dayton, Ohio

DMK 21AF04 FireWire Camera, 2x Barlow & Meade 10″ SCT

2700 RGB frames stacked in Registax 6, and RGB aligned in Maxim DL, final balance in Adobe PS.

The second image is of the non GRS side of Jupiter taken with the same setup as above, but on the night 8-12-2011.

The seeing was much better, but no transits or GRS, but still a nice image.

Best Regards,

John Chumack

www.galacticimages.com