Venus is the brightest celestial body in the night sky after the Moon. It could get as bright as an magnitude of -4.6. When Theo Ramakers and Frank Garner photographed its beauty on the afternoon of Sep.25, Venus was right behind the path of ISS. They had been waiting long for this opportunity.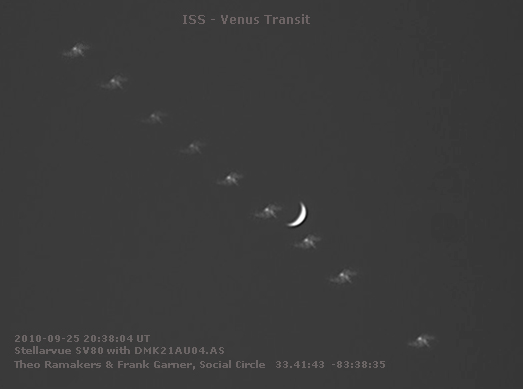 No this is not the Moon, we have a two day full harvest moon.It is the crescent Venus as the ISS made a transit across Venus from the driveway of a friend of mine.Frank Garner and I have been waiting a long time for this opportunity and we are very happy with this.Please note that this is a daytime pass at 4:38 P.M. local time and the Sun is still 33 degrees high and 30 degrees from Venus.Venus was shining at a magnitude of -4.2 and the brightness of the ISS was -1.2, a difficult spread to manage in bright daylight.

This image was taken in broad daylight with a Stellarvue SV80/90 and a DMK 21AU04.AS on 2010-09-25 at 16:38 ET.We imaged exactly on the predicted center line of the visible path of 300 meters.
This is quite something. Thank you Theo!