This is the first work Javier Fuertes has sent to us. Javier is a Spanish astronomy amateur based in Leon, northern Spain. He took the pictures of Mars on 02.Feb with his DBK 21AU04.AS astronomy camera, and with the help of Image Ready 9.0 he put them into one animation. This animation depicts Mars' rotation between 20:55 and 21:55 UT.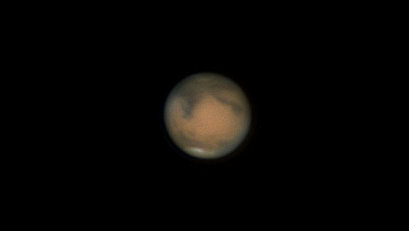 He briefly introduced his equipments in e-mail:
Telescope Celestron C8 S / C,

Camera DBK 21AU04.AS,

IR-UV Block Filter Baader Planetarium and 3X Barlow.

Image processing Phothoshop 7.0 and Image Ready 9.0 for animation.

He also included a link to his own web where you can find more about his pictures!
Gracias Javier!