After being quiet for five months, Alberto Mayer is back with his latest Mars image. He took the image with his DMK 31AF03.AS on Feb.07, 2010.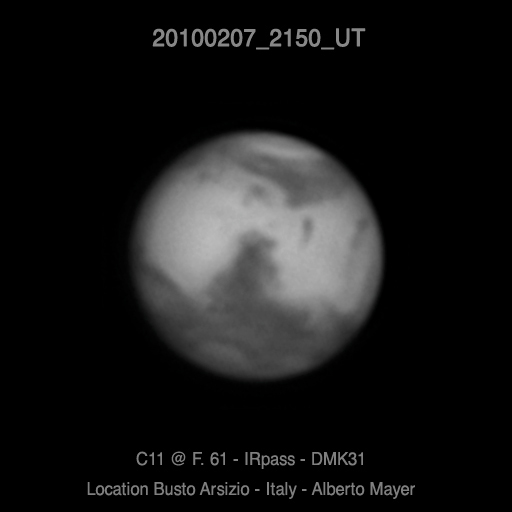 Details are available in his e-mail:
Yesterday i attempted a capture of Mars with a C11 @ f.90 (25 meters) but then i scaled it to f.61. In such conditions the DMK31 suffered a lot because the lightness of the planetwas really dim so i had to work at 15 fps but the gain was at maximum level and, in addition, a diagonal pattern appeared in the camera.

Anyway i got one of my best Mars even considering the OTA (C11) and the fact that we all have in mind the Pic du Midi Mars!!!

The seeing was nice and the detail was sharper than the teoric limit of the OTA. I would have been curious to be able to capture in such conditions (f.90) at 30 fps with a hypothetical camera with low noise level in order to verify the limit of the OTA itself. In this case the OTA test was limited by the extreme low light level not enough for the camera sensitivity/noise/speed.
Thank you Alberto!