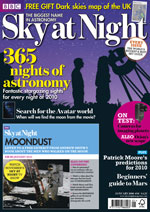 British monthly astronomy magazine "BBC Sky at Night" has published a products review in its January edition of this year. In the article, the author Peter Lawrence looked into four different planetary cameras, including
The Imaging Source DFK 21AU04.AS
Celestron NexImage Solar System Imager
Meade LPI
QHY5V
with respect to Color, Installation, Noise, Sensitivity, and Software.
In the end of the article, The Imaging Source DFK 21AU04.AS was graded 92% overall by Lawrence, topping the rest. However Lawrence did not focus on the winner only, but also gave us a large volume of insights of the other three cameras. Definitely worth reading!
Many thanks to Peter Lawrence!