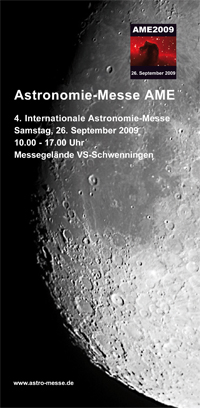 In December 2007, the 62nd General Assembly of the United Nations declared 2009 the International Year of Astronomy (IYA2009) to coincide the 400th anniversary of Galileo pointing his telescope at the sky for the first time.
As one of the astronomical events to celebrate IYA2009, AME 2009 is taking place on 26.09.2009 in Ostfildern, southern Germany. Beside observation activities, there will also be many advanced observation tools exhibited and sold with reduction in the fair.
Teleskop-Service Ransburg and Gerd Neumann jr, two of The Imaging Source German distributors, will bring the well know DMK, DFK and DBK astronomy cameras to this show. Feel free to stop by their booths if you are around.
For complete list of our dealers across the world, click on the "Dealers" tab above.