Many inquires hit my desk regarding the magnification using a specific telescope with The Imaging Source astronomy cameras. I generally rephrase these questions for the client, but instead, answer with the angular fields of view corresponding to The Imaging Source cameras.
Unfortunately, this is not such an easy question to answer even when all of the scope parts are included in the system.
As a good reference article, below is a "conversation" between me and Tommy Hartline, a long time user of The Imaging Source cameras, regarding his DMK 31AF03.AS.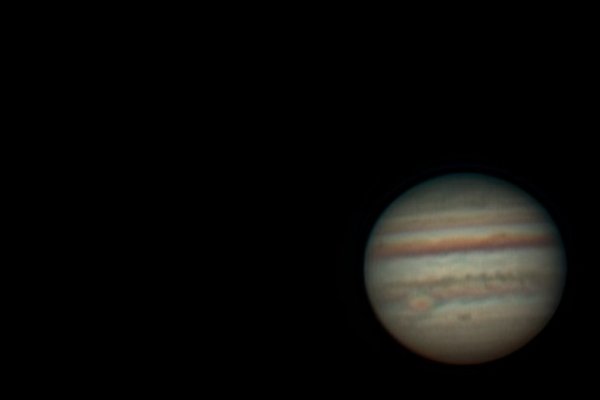 Tommy:
Hi John, took a good shot of Jupiter last friday showing the GRS and a oval below it! maybe it can be added to the blog. I used the DBK 31AF03.AS, thanks in advance.
Me:
Send me the pic or the link[...] I'd like to take a look!
Tommy:
This is one I took Friday night John [see above]. I can send you the full tiff image if you like this one. Thanks, if this one doesn't open for you (I'm at work) I'll send you one from home.
Me:
Not necessary. This is good. I have another customer that just inquired about the field of view vs telescope. Could you supply me with the parts [including the DBK 31AF03.AS] you used to get the images and the processing for the finished product [...]
Tommy:
Sure John, here ya go:
Scope: celestron CPC800 XLT / GPS
Camera: The Imaging Source DBK 31AF03.AS High res color
Barlow : 2x barlow / IR Filter
2200 frames @ 15 fps
Processed : Registax 4 / Photoshop CS2
Burleson Texas U.S.A. / 23:00 Hrs - 08/01/2008
Seeing conditions where just above average.

Thanks Again John!!
It's always good to give credit where credit is do! Great job Tommy!
profjohn