Last year, Sean Walker wrote an outstanding test report for Sky And Telescope about the DMK 21AF04.AS astronomy camera; this year he has just sent us a spectacular animation of Mars.
In this e-mail, he writes:
I thought you may enjoy this rotating globe of Mars I created with a DMK 21AF04.AS and a 12.5″ Newtonian reflector. [...] Allow a minute for the entire animation to load, as it's quite big, but worth the wait.
Below is the animation: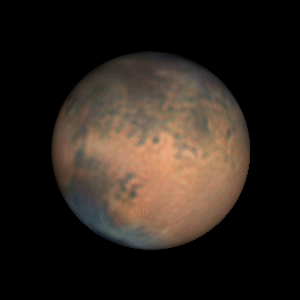 As Sean notes, the animation is rather sizable, hence, it will take a while to load, depending on your Internet connection.
Greatest thanks go out to Sean! If any other blog readers have similar animations, which they would like to share with the astronomy cameras community, please do not hesitate to send them to us!