Last week, we received an e-mail from the Germany-based celebrated astro-photographer, Sebastian Voltmer who runs a delightful little web site over at www.astrophoto.de.
Although the web site is in German, our international audience should not have too many problems understanding what it is all about. The web site is full of sample images, videos, publications and contains information about current astronomy events.
Sebastian sent in a great composite photo of Mars, which contains images that he captured on three different days: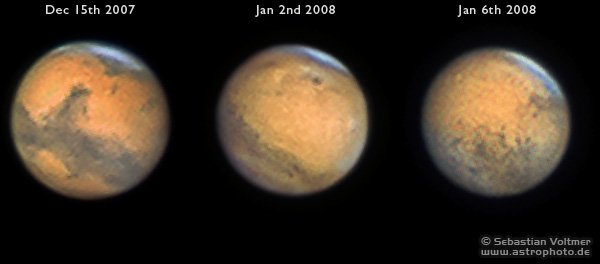 Accompanying his image, Sebastian wrote:
Die DFK 21AU04.AS ist ausgezeichnet! Anbei ein Mars-Trio[...]
Translated into English, this means:
The DFK 21AU04.AS is exceptional! Attached a Mars trio[...]
Great thanks go out to Sebastian for this work with The Imaging Source astronomy cameras.