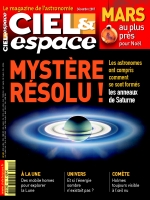 As I mentioned in a previous blog post, The Imaging Source is currently running a competition with the French astronomy magazine Ciel & Espace. Readers of the magazine were requested to submit their best photo of Mars.
The competition ended on New Year's Eve and the readers have submitted their photos.
You can see all entries online at:
http://astrophotography.fr/concours/
In the next few days, a winner will be announced.