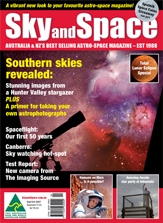 In the September / October edition of the Australian magazine Sky and Space, Tony Gondola puts The Imaging Source DMK 21AF04 FireWire camera throughout its paces in the magazine's Test Report, entitled [The] Imaging Source's Box of Tricks.
Tony commences his report with a technical discussion about the camera, noting that the casing is very robust, exhaling a feeling of quality:
The 50mm square camera housing is beautifully crafted out of blue and black anodised aluminium, giving the imager a very solid, industrial feel[...] no plastic found here.
He proceeds to discuss the shipped software, stating that IC Capture is
[...] a surprisingly powerful program with a few great unusual features. The various settings and control windows can be placed anywhere on the screen and the live image is resizable, making it easy to customise your on-screen setup, making all settings and controls available 'on the fly'.
He concludes his review of the software with:
IC [Capture] works extremely well.
Turning his attention to one of the most important factors for a camera being deployed for astrophotography, he discuses the noise levels of the DMK 21AF04. He sets up an experiment in which a gray scale chart was captured at 0%, 50% and 100% gain. Tony concludes that:
[...] noise is very well controlled with maximum gain settings providing usable results with minimal stacking depths. This noise level is lower then any webcam-based imager I've used.
Furthermore, he notes that the sensitivity of the camera
[...] is such that most of my lunar imaging is done just above the 50% gain setting. That really makes noise a non-factor when applying typical sharpening processes.
Tony states that although the DMK 21AF04 is ideally suited for lunar, solar and planetary work, thanks to its long exposure time and high sensitivity, it may also be deployed for digital DSO photography. In his article, he publishes an image of Messier-42 that he has captured with the camera, which he feels illustrates this opinion. He points the interested reader to this blog for further sample images.
He concludes the article, stating that the DMK 21AF04 is a reasonably priced, rugged, high performance camera for lunar, planetary and solar work. Furthermore, it offers some utility as a guider and for DSO.
Here, at The Imaging Source, we thank Tony for spending so much time with the camera and writing his detailed report. We recommend that all Australian-based readers go out to their local newsstand and get a copy of the magazine today!