On page 111 of the August 2007 edition of the German language magazine Sterne und Weltraum, one of our German resellers, Teleskop-Service has a third of a page advert, advertising our astronomy cameras.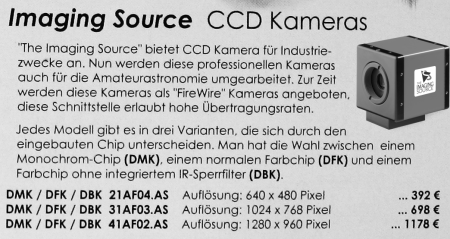 Translated, the text reads:
[The] Imaging Source CCD Cameras

Typically, "The Imaging Source" manufactures CCD cameras for industrial applications. Now, however, these professional cameras have been overhauled for amateur astronomy. Currently, the cameras have a FireWire connector, which permits very fast data transfer.

All models are available in three versions; each one with a different CCD. The cameras are available with a monochrome CCD (DMK), a normal color CCD (DFK) and a color CCD without integrated IR cut filter (DBK).

DMK / DFK / DBK 21AF04.AS Resolution: 640 x 480 pixel 392 €
DMK / DFK / DBK 31AF03.AS Resolution: 1024 x 768 pixel 698 €
DMK / DFK / DBK 41AF02.AS Resolution: 1280 x 960 pixel 1178 €
Source: Stern und Weltraum, August 2007 edition, page 111.