Chuck Wood over at LPOD has published a lunar photo by Bob Pilz.
Chuck writes:
In this area of generally weathered and undistinguished craters it is easy to not recognize Goodacre, but he (I'm thinking of the author) is the relatively sharp-rimmed crater at center right, sitting on the rim of Gemma Frisius. Goodacre, the crater, is 46 km wide with a smooth floor and a small bright peak. Walter Goodacre, the man, was the director of the Lunar Section of the British Astronomical Association in the early 20th century and self-published his wonderful red book, The Moon, in 1931.
Below is the crater image that was recently published on LPOD: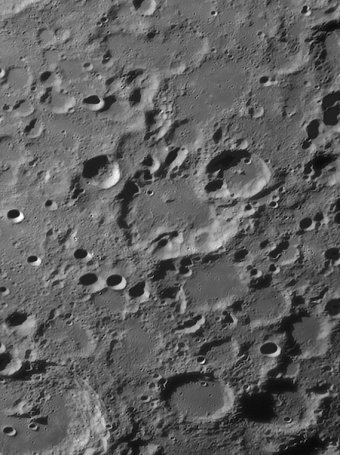 Bob used a 200mm f/6 Newtonian reflector, Televue 3x Barlow, DMK 21BF04, 'Blue' IR-block filter, .20 arcsec/pixel, 30 fps, 1/39 sec, 600/9000 frames stacked; processed in Registax V4, PS CS, Focus Magic.