In our ongoing efforts to strengthen the astronomy camera community, we are very proud to announce that we have just released the official Astronomy Cameras Newsletter.
Available in four languages (English, German, Simplified Chinese and Traditional Chinese), it is a bi-monthly publication that summarizes the most important events and happenings in the astronomy cameras community.
Below is a screenshot of a typical Astronomy Cameras Newsletter: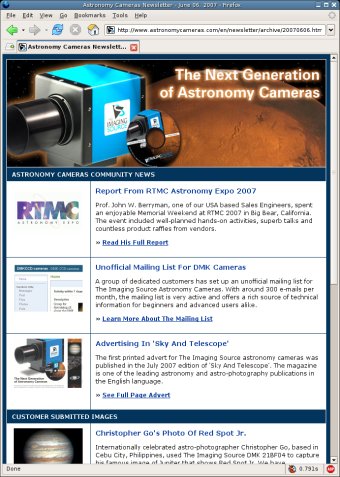 In the newsletter, we talk about the following:
Practical advice on deploying astronomy cameras
Links to the photos, captured by the community
Technical discussions on astronomy cameras
Software that supports astronomy cameras
Details of special offers and discounts
Technical articles on astro-photography
The newsletter is sent out in HTML and contains only a short summary of the article. The actual content of the newsletter is posted either on the astronomy cameras web site or here in the astronomy cameras blog.
Learn more, view the archive, subscribe and unsubscribe.