IC WDM UVCCAM TIS - Device Driver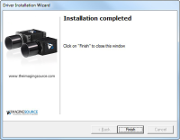 The driver IC WDM UVCCAM TIS embeds all USB astronomy cameras, manufactured by The Imaging Source, into Windows.
By deploying this driver, all astronomy cameras are compatible to DirectX.
Consequently, all The Imaging Source astronomy cameras can be used with all astro-photography software that is compatible to DirectX.
Requirements
Intel Core i3 or similar, 2 GB RAM
USB 3.0 controller
Graphics card with 24 or 32 bit
Windows 7 (32 & 64 bit), Windows 8 (32 & 64 bit), Windows 10 (32 & 64 bit)
DirectX 9.0c or higher
Latest Version
2.9.8 - released on August 22, 2019.
Changelog
Added several internal interfaces for particular sensors (J003).
Download [3.05 MB ZIP]